Samsung WM55H - Digital Flipchart for Business

A 4K UHD digital flipchart that drives collaboration and expands presentation capabilities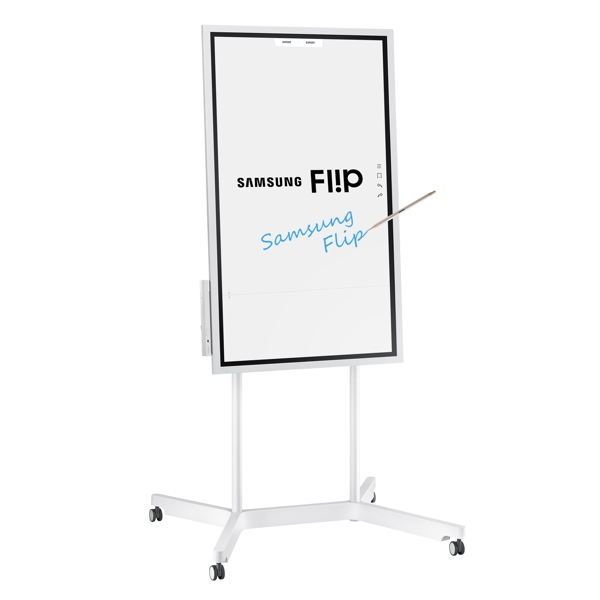 Samsung Products
Samsung Digital Signage
Samsung WM55H - Digital Flipchart for Business
More pricing below, click here!

Please Note: All Prices are Inclusive of GST
Overview:
Say goodbye to unwieldy paper flipcharts, messy whiteboards and smelly markers. Say hello to the Samsung Flip digital flipchart. With features that greatly enhance today's fast-paced and digital-centric workflow, the Samsung Flip allows teams to hold and recap meetings with incredible ease. It drives greater collaboration, expands presentation capabilities and is ideal for all types of meetings, training or group brainstorming. Go far beyond paper and markers. Go further with the Samsung Flip.
55" 4K UHD digital flipchart with a natural, paper-like writing experience for making meetings and brainstorms more productive
Intuitive to use and easy to present, save and share your ideas
Portable, wheel based stand (sold separately)1 and instant-on allows you to start a meeting anywhere, anytime
Instantly recap and distribute notes
Features:
Hold Better Meetings, Have Better Outcomes
Samsung Flip is the way forward-thinking companies conduct meetings. With the Flip digital flipchart, you can efficiently capture and share ideas, making meetings and brainstorms more productive. It's simple to create, save and share digital notes easily.
Leave Paper Flipcharts and Whiteboards in the Past
No unwieldy paper to deal with. No messy, squeaky markers. You can effortlessly scroll between pages, and erasing the page is a simple matter of a quick swipe of the finger or palm. You'll always have a fresh, clean page ready to fill with ideas.
A Natural, Fluid Writing Experience
The Samsung Flip offers an exceptionally natural, paper-like writing experience. Enjoy the smooth, fast, familiar feel of traditional writing in a versatile digital format, and write or draw in a variety of colors, styles and widths.
Up to Four People Can Write Simultaneously
When ideas come quickly, you can capture them all. The Samsung Flip is able to easily process four different writing inputs at once.
Quickly and Easily Import Content to Share
The Samsung Flip allows you to import images, videos and other content via NFC, screen mirroring or HDMI, then share them directly on the Flip's screen. You can then easily enlarge and annotate your content, then capture the page to save it.
From Portrait to Landscape and Back Again
One meeting has content that's best presented in portrait orientation. The next meeting has landscape content and four collaborators. You can rotate the Flip from one orientation to the next in an instant.
Flexible and Portable Installation Options
The Samsung Flip is easy to move around the office with its rolling floor stand (sold separately), or it can be mounted on the wall with a rotational mount. Both options allow for easy pivoting between landscape and portrait orientation.
Instantly Distribute Meeting Notes
The Samsung Flip makes it simple to save and distribute notes. No more taking pictures of paper pads and whiteboards or tasking one person to accurately consolidate all the notes. The Samsung Flip stores your meeting securely, then lets you share all the notes via email, network, thumb drive or even printouts if you want.
4K UHD Ensures Crisp, Captivating Images
Every presentation, every image and every video will be reproduced clearly and accurately. 4K UHD resolution and Samsung picture technologies ensure it. You can also mirror the Flip's screen to a larger display, to ensure everyone in the room has a view.
Your Content is Safe and Secure
The Flip securely stores all your meeting pages and notes when your meeting is done. A password-based protection system safeguards meeting details and ensures only authorised users can access the content.
Specifications:
Samsung WM55H - Digital Flipchart for Business
Series Name
WM55H
Display
Screen Size
55"
Panel Technology
60Hz E-LED
Resolution
3,840 x 2,160 (Landscape)
2,160 x 3,840 (Portrait)
Brightness
300nit (without glass), 220nit (with glass)
Contrast Ratio (Typical)
4700:1 (without glass)
Viewing Angle (H/V)
178:178
Response Time
8ms (Typ.)
Connectivity
Input
VIDEO: HDMI 1
USB: USB 2 (ver 2.0 x2, Side 1, Sensor Assy 1)
Output
TOUCH OUT: Touch Out 1 (Side, USB Upstream Type)
External Control
Touch Input, RJ45 (not for User Control)
Sensor
NFC, Acceleration sensor, Proximity Sensor
Power Supply
AC 100~240V 50/60Hz
Power Consumption (Typical/Max)
Typ: 100 W/h, Max: 165 W/h
Power Consumption (Standby)
0.5 W/h
Environmental Conditions
Operating Temperature
0℃~ 40℃
Operating Humidity
10~80%
Features
Key
Flip App
Special
HARDWARE: Super Clear Coating, Temperature Sensor, Pivot Display, Clock Battery(168hrs Clock Keeping), Built in Speaker(10W x 2), WiFi Module Embedded
SOFTWARE: Flip S/W
PLATFORM: Kant-M (Tizen 3.0)
Touchscreen
Yes
Speaker Type
Built in Speaker (10W x 2)
Touch
Type
Advanced IR
# of Drawing
4 drawing
Touch Pen Type
Passive Pen
Object Recognition Range
2mm/ 4mm / 8mm / 50mm
Touch Response Time
38ms ~ 46ms
(According to number of Multi Drawing )
Internal Player
Processor
CA72 Quad(1.7GHz)
On-Chip Cache Memory
L1 (I/D) : 32KB / 32KB
L2 (Unified) : 1MB
Clock Speed
1.7GHz CPU Quad
Main Memory Interface
LPDDR4 1400MHz 64bit 3GB
Graphics
2D & 3D Graphics Engine
- Up to 1920x1080. 32bpp
- Supports OpenGL ES
Storage
8GB
(2.65GB Occupied by O/S, 5.35GB Available)
Multimedia
Video Decoder: MPEG-1/2/4, H.263, H.264/AVC, UHD H.264/ AVC, VC-1, AVS+, HEVC, JPEG, PNG, VP8, VP9
Audio Decoder: AC3 (DD), MPEG
IO Ports
USB 2.0
Operating System
Samsung Proprietary OS(VDLinux)
Dimensions
Without Stand (W x H x D)
1302.6 x 805.5 x 52 mm
Packaging (W x H x D)
1469 x 924 x 210 mm
Weight
Product Weight
28.9 kg
Package Weight
34.9 kg
Accessories
Included in Box
Passive Pen(2), Power Cable, Touch Out Cable (USB upstream)
Optional Wall Mount Kit
WMN-6575SD
Optional Stand
STN-WM55H
Specialty
Flip UX
Mechancial Specs
VESA Mount
400 x 400
Color
Light Gray
Protection Glass
Yes
Stand Type
Moving Stand(Acc), Wall Mount
Rotation
Available with Flip Stand
(Rotation Sylinder Included)
Power Cable Length
3m
Accessory
Cover-Jack
Pricing Notes:
All Prices are Inclusive of GST
Pricing and product availability subject to change without notice.
Samsung Products
Samsung Digital Signage
Samsung WM55H - Digital Flipchart for Business